es
Nuestro grupo participa en el
XXXII congreso GEQO
, que se celebra en Tarragona, presentando los trabajos más recientes.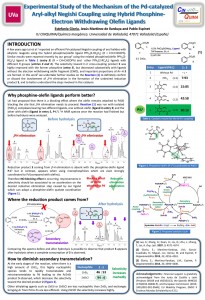 Jesús Molina presenta la comunicación oral:
Polynorbornene supportted NHCs. Use in Pd catalyzed C-C cross coupling reactions.
Además presentamos las siguientes comunicaciones en forma de póster:
Carlos Cordovilla:
Diamine Catalyzed Addition of ZnEt2 to PhC(O)CF3: Two Mechanisms, and Autocatalytic Asymmetric  Enhancement
Estefanía Gioria:
Experimental Study of the Mechanism of the Pd-catalyzed Aryl-alkyl Negishi Coupling using Hybrid Phosphine-Electron Withdrawing Olefin Ligands (Póster)
Sheila Martínez:
Functionalized polynorbornenes via palladium catalyzed cross coupling reactions.
Alberto Toledo:
Detection and characterization of a new heterometallic bisalkynyl gold(I) allyl palladium complex.
en