El artículo "Heterometallic Complexes by Transmetalation of Alkynyl Groups from Copper or Silver to Allyl Palladium Complexes: Demetalation Studies and Alkynyl Homocoupling" cuyos autores son Isabel Meana, Pablo Espinet y Ana C. Albéniz portada de la revista Organometallics en su primer número de 2014.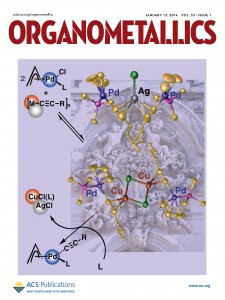 El artículo recoge varios nuevos compuestos heterometálicos de paladio-cobre o paladio-plata con grupos alquinilo cuyo comportamiento es importante para explicar algunos aspectos relacionados con la reacción de Sonogashira y otras reacciones competitivas con ella como el homoacoplamiento de alquinos.
La portada de la revista recoge el escudo de la UVa de la fachada barroca de la Universidad. Sobre él se representan algunos de los compuestos que recoge el artículo: Un átomo de plata sobre la tiara papal del escudo que sostienen dos ángeles en analogía con los dos ligandos alquinilo que sustentan el átomo de plata en el compuesto.
La portada acaba de salir en la web de la revista de la ACS (http://pubs.acs.org/toc/orgnd7/current).